What will life after the virus look like for brands and businesses?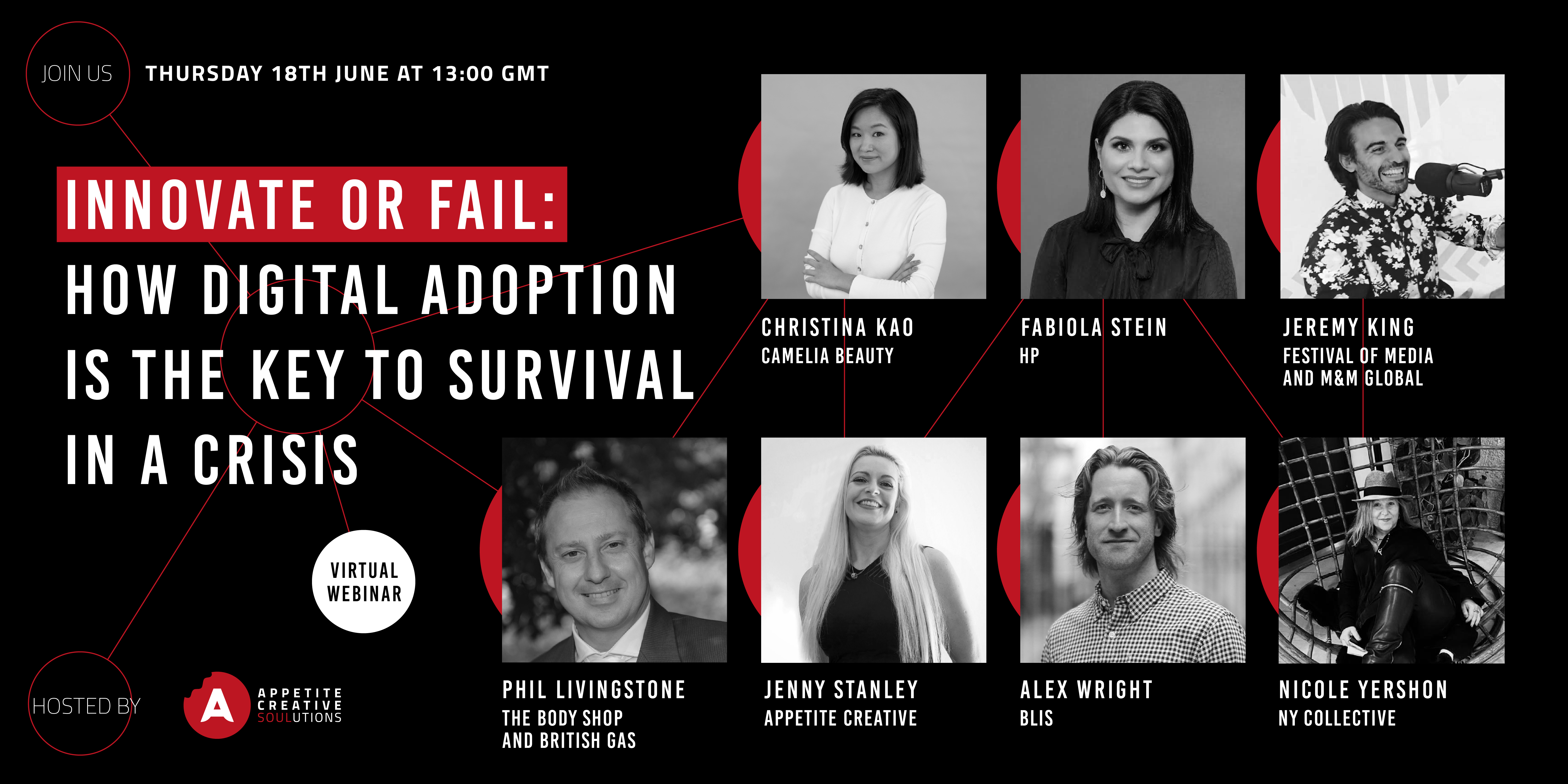 About this Event
In this fast paced webinar, experts from brands, agency and industry experts will discuss how the COVID-19 crisis is unparalleled in modern times. In this new world, more change took place in 10 weeks that was predicted to take place in 10 years. For businesses around the world, the word 'pivot' has become a watchword. Business models were turned on their head and those that didn't embrace digital transformation were left stranded, many fatally.
The effects of COVID-19 are immense and businesses have grappled to cope with the impact on their operations. However, with signs that the worst is now over, the narrative is now shifting to recovery and businesses are moving to gear-up into the next phase.
But with change comes opportunity and stories of successes are starting to make their way from the carnage wrought by COVID-19.
This event is a must-have for brands, marketers and agencies that want to learn about successful businesses that emerged stronger from COVID-19. How can your business benefit from the post COVID-19 landscape? What changes do you need to make to succeed in an environment where many competitors may have failed.
You will hear the answers and more from our line up of brilliant guests including:
- Fabiola Stein, Global Head of B2B Marketing at HP



- Christina Kao, Co-Founder & Managing Partner at Camelia Beauty


Originally from Alabama, Christina studied at NYU and worked in advertising in NYC for several years before moving to Shanghai to join TBWA Group's event agency Auditoire. She helped to set up the first international office and created luxury events and fashion shows for LVMH, Chanel, etc. She then worked for a celebrity Australian chef in his restaurant consulting group heading up business development & marketing for 11 restaurants in China & Hong Kong.
In 2013, she began working with her partner to launch an indie beauty brand in France, Hong Kong and the US. In the first 18 months, they landed 3 successful Kickstarter campaigns, a roll-out in all Sephora France stores, as well as a collaboration with Lane Crawford. The brand "Le Mini Macaron" is now sold in over 30 markets with retailers like Sephora, ASOS, ULTA, Urban Outfitters and QVC. Christina re-located to Barcelona in 2017 and manages the central team in Barcelona which oversees operations in the US, Europe and Asia.

- Jenny Stanley, Founder and MD of Appetite Creative

Jenny Stanley is the Founder and Managing Director of Appetite Creative Soulutions and Women's networking group, FemmeNiche. Since starting the multi-award-winning company Appetite Creative in 2014, it's been her mission to advance creative technology in advertising. Her work with Femme Niche has been ground breaking and has helped so many women across the industry. Jenny has also been a mentor for many in the industry over the years and has always gone over and above to provide mentorship to other leaders to empower and develop them to their full potential. She is an active member of Digital Leading Ladies and mentors a number of the more junior members within the group; providing an incredible level of support, expertise and compassion to all that she helps.

- Jeremy King, CEO Festival of Media and M&M Global

Jeremy is currently CEO of C Squared Networks and an advisor to a family investment fund on businesses looking for investment in the media, entertainment, music, adtech and sports sectors. As CEO for C Squared's portfolio of Festival of Media and M&M Global global events programmes Jeremy is immersed in the advertising and media sector with key relationships with brands, media owners, media agencies and adtech companies around the world. This role involves him curating an inclusive culture and working environment, and creative strategies for the company's products and travelling around the world to chair various industry events. Prior to this he was communications and marketing director for The O2 with responsibility for creating and implementing a communications strategy for the venue, its assets and partners to ensure it maintained its position as the world's most popular music space, and the number one entertainment destination for both domestic and international visitors. Before this he was editor of Media Week and Event, the leading titles for the UK media and event
industries, for ten years. Prior to this he was the entertainment editor for the Evening Standard's inaugural digital arm thisislondon.co.uk having been a news and entertainment editor for a number of Trinity Mirror regional newspapers.

- Nicole Yershon, Founder of The NY Collective

Nicole Yershon, Founder and CEO NY Collective is one of the Drum's 25 Women Who Shaped The Digital Industry in the last 25 Years. Wired Magazine's top 100 - first annual survey of Britain's Digital Power brokers. She was the founder of Ogilvy Labs and a best selling author, 'Rough Diamond: Turning Disruption into Advantage in Business and Life'. Just a few of the clients she has worked with over recent years are Danone, Havas, Amex, IBM, Ravensbourne University, BP, London Business School, E&Y, Accenture, Pfizer and many more.


- Phil Livingstone, Ex Global Director of Digital Marketing at The Body Shop and former Head of Digital Marketing, Social Media & Content at British Gas

Phil has over 20 years' experience within the marketing industry, 13 of which were in media agencies. Phil is currently a Media & Marketing Consultant and has a wealth of marketing, digital and ecommerce knowledge. Phil has held senior positions at The Body Shop Global where he worked as Global Director of Digital Marketing and at British Gas where he served as Head of Digital Marketing, Social Media and Content tasked with developing digital capabilities, ecommerce sales and product marketing from Centrica. Prior to this role he worked, as Group Digital Director at Havas Media, where he delivered strategy and planning for clients such as Camelot, Hyundai, AXA, Expedia and ING Direct. He also had five years' media experience at Mindshare where he worked on leading brands such as HSBC, Argos, Jaguar, first direct, Kellogg's and the COI. Phil holds a Media Technology & Production degree and a Marketing Diploma from The Institute of Data and Marketing.


- Alex Wright, Head of Insight at BLIS.
Alex is Head of Insight at Blis, tasked with interpreting our unique data-set and applying it to address client challenges. Having spent more than a decade working in research and insight roles across a diverse range of media agencies, owners, and publishers, Alex uses this perspective to understand the role mobile location data can play in marketing communications and media planning.
Gain insights into:
- Actions to take now and how to prepare for the new future
- Trends that will shape the new future
- How to get new consumers and interaction
- Creating digital engagement with your current consumers in new ways
- Renewed vigour around creativity, performance and innovation
- Marketing and communications in a crisis and beyond
Date And Time
Thursday, June 18th, 2020
1:00 PM – 1:45 PM CEST